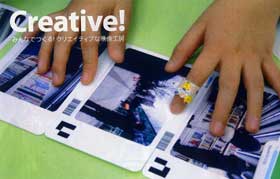 I've always struggled with the virtual world of organizing information, especially when working with sound or digital video. My (admittedly inelegant) solutions have always, thusly, left something to be desired. I've taken to cutting up audio transcripts and moving them around. Attempted to use PowerPoint slides. And of course, writing scene descriptions on Post-Its or index cards.
All in the hopes of creating something more 3D. Something that I could hold in my hand and move around and not worry about waiting for my computer to save something. Or creating several different versions of a file all with different version numbers. Sketching works nice, but then you get involved with dealing with how detailed the sketches should be and other roadblocks.
The best named blog ever,
we make money not art
, has
found
a simpler solution from two Japanese media artists (of course).
It's for kids. Allegedly. But since when does toy-and-cartoon-obsessed Japan worry about what is age-appropriate?