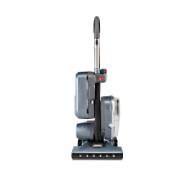 Forget high gas prices and rollover rates. Or even crossovers.
The new release of Hoover's new Sport Utility
Vacuum
marks the official end of the of the SUV.
From the
official
PR statement:
"This new addition answers the call of consumers looking for seamless cleaning without interruption," said Dave Baker, vice president and general manager, Hoover. "The Hoover Z bagless upright allows users to move from cleaning hard floors to carpet, and then vacuum draperies and extend to the top of a flight of stairs, all without the need to switch to different vacuums or stop the cleaning process . . ."
Wow, that's more off-roading than the Hoover owner gets in his/her Jeep Commander.